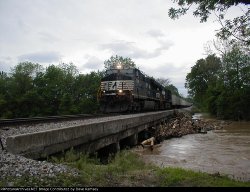 Welcome to the RRPictureArchives.NET contributor site of Dave Ramsey.



Hello Railfans! Welcome to my site. My wife, Kelly and daughter Audrey live in Greens Fork, IN. I have been a railfan as long as I can remember. The earliest I remember would be when I was around 6 or 7 years old and when I would hear a train blowing I would run out of my grandparent's house in Greens Fork, IN to watch a Pennsylvania Railroad train go by. They lived 5 houses from the track. Now we all live in that same house and the line was purchased by Norfolk and Western and later became Norfolk Southern. It is known as the New Castle District of the Cincinnati, OH to Ft. Wayne, IN line. In my younger days, I didn't take very many photos. I think we took everything for granted and never realized how the railroads would change in appearance and ownership. I try to do a better job of taking photos now. I am also from the Centerville, IN area where my parents live. There was a Pennsylvania Railroad double track line that ran through there and yet I have not one photo. Loved to watch those trains, just didn't take photos. I haven't found any from Centerville on here, but I'm hoping someone out there has some they can post sometime. That line is now abandoned. Enjoy my photos and I'll appreciate your comments and suggestions. I'm not good at identifying locomotive models, so I can use some help there! Thanks! Dave



You may browse my collection of pictures via the menu located on the left hand side of the page. I hope you enjoy the collection and thanks for stopping by!
Note: This site is best viewed in Internet Explorer 6.0 or above.
Select one of the links from the menu on the left to begin browsing the collection.